Agnès Wyler
Swiss artist based in Zurich.
Born in 1961.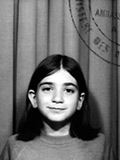 Biographie vocale



Dé-lire



THE SAME AS THE OTHER, 2019 Helmhaus Zurich, curated by Simon Maurer
Youtube video of the installation
video credit http://www.videocompany.ch


Agnès Wyler studied Philosophy at Lausanne University and Art at the School of the Museum of Fine Arts in Boston. She is working in series. She constantly is questioning the world and the reality, making of her practice a never ending instrument for critical thinking. She lives and works in Zurich, and her work has been showed since 1988 internationally and nationally in various galleries and institutions, like Haus Konstruktiv, Museum Rietberg, Kunsthalle Zürich or Helmhaus in Zurich. She taught at the F+F art school in Zurich, at the Israel Museum in Jerusalem and in other institutions abroad. In 2003 she was a finalist for the « Prix Fondation Edouard & Maurice Sandoz (FEMS) » and in 2017 she was a finalist in the competition of the Swiss Art Awards. In 2018, 2021 and 2022, her work was awarded the Stipendium of the City of Zurich. Her art work is represented in numerous prestigious collections and was featured in several publications.


Grants
2022
Werkstipendium Covid-19 der Stadt Zürich, Switzerland
2021
Werkstipendium Covid-19 der Stadt Zürich, Switzerland
2018
Werkstipendium der Stadt Zürich, Switzerland
2017
Erna und Curt Burgauer Stiftung, Zurich, Switzerland
2015
La Fondation de Famille Sandoz, Lausanne, Switzerland
Kanton Zürich, Fachstelle Kultur, Zürich, Switzerland
Merzbacher Kunststiftung, Küsnacht, Switzerland
Präsidialdepartement der Stadt Zürich, Switzerland
2007
Dr. Adolf Streuli-Stiftung, Zurich, Switzerland
Dr. Georg und josi Guggenheim-Stiftung, Zurich, Switzerland
La Fondation de Famille Sandoz, Lausanne, Switzerland
Max und Erika Gideon-Stiftung, Zurich, Switzerland
Merzbacher Kunststiftung, Küsnacht, Switzerland
Präsidialdepartement der Stadt Zurich, Switzerland
2001
Cassinelli-Vogel-Stiftung, Zurich, Switzerland
Dr. Adolf Streuli-Stiftung, Zurich, Switzerland
Ernst Göhner Stiftung, Zug, Switzerland
Max und Erika Gideon-Stiftung, Zurich, Switzerland
Präsidialdepartement der Stadt Zurich, Switzerland
René und Susanne Braginsky Stiftung, Zurich, Switzerland
Selected Collections
AIG Private Bank Ltd, Zurich, Switzerland
Arthur D. Little AG, Zurich, Switzerland
Bank Leu AG, Zurich, Switzerland
La Collection d'Art de la Confédération (CAC), Switzerland
Collection Merzbacher-Mayer, Switzerland
Collection Peter & Elisabeth Bosshard, Switzerland
Collection Vincent Bazin, France
Crédit Suisse, Zurich, Switzerland
F. Hoffmann-La Roche Ltd, Basel, Switzerland
Kunstsammlung Kanton Zürich, Switzerland
Kunstsammlung Stadt Zürich, Switzerland
Luciano Benetton Collection, Italy
Verzekeringsconcern Achmea, Amsterdam, Netherlands
La Ville de Martigny, Switzerland
Zürcher Kantonalbank, Zurich, Switzerland
Zürich Versicherungen, Zurich, Switzerland